Posted on 23 March 2015 by admin
Fotografii de Anca Ciuciulin
Joi, 26 martie, de la ora 18:30, Ceainăria Cărturești devine punct de îmbarcare într-o călătorie croită din mătase, imagini și cuvinte prin Țara Surâsului: Editura Vellant lansează cartea-album, "Thailanda: taină, tihnă & taifas", cu fotografii și texte de Anca Ciuciulin.
Albumul de debut al Ancăi Ciuciulin este ca o vacanță. Cititorii sunt purtați prin temple și megamalluri, pe străduțe strălucind în noapte și prin piețe doldora de condimente, prin căsuțe ale spiritelor și prin ferme de fluturi, prin ceremonii care durează zile și nopți sau printr-o explozie continuă de culori, miresme și texturi exotice. La capătul lecturii, întocmai ca după o vacanță petrecută în tihnă, hoinarii revin în fotoliul din sufrageria proprie, învăluiți în lux, calm și voluptate – în variantă thailandeză.
Alături de autoare, vor vorbi despre farmecul irezistibil al Thailandei E. S. Dl. Komgrit Varakamin, Ambasadorul Regatului Thailandei în România, Dl. Bogdan Gligor, reprezentantul Tourism Authority of Thailand în România, precum și scriitorii și jurnaliștii Ana Barton, Ioana Bâldea-Constantinescu și Marius Constantinescu.
Anca Ciuciulin se află aici la prima sa carte, dar nu este deloc străină scrisului, fotografiei sau chiar arhitecturii. Arhitect, jurnalist reputat pentru unele din cele mai rafinate publicaţii din domeniu, între care Esquire, Harper's Bazaar şi National Geographic, fashion designer, fotograf ivit din plăcerea de a colecţiona imagini a călătorului, Anca Ciuciulin ne împărtășește în acest volum de debut din bucuria unui observator neobosit al frumuseții.
***
Volum publicat cu sprijinul Tourism Authority of Thailand.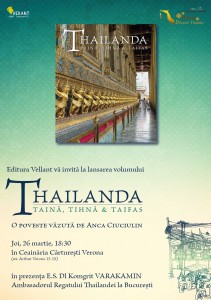 Tags | Anca Ciuciulin, lansare carte